The Perfect Plate with Chef E: Eggs Benedict with Blender Hollandaise Sauce
Posted by Adam Glass on Sunday, July 5, 2020 at 9:10 PM
By Adam Glass / July 5, 2020
Comment
Chef Elizabeth Weaver is a personal chef and valued partner of the Destination Home Team, and we are excited to bring you one of her tasty dishes each month! July's is a classic breakfast favorite.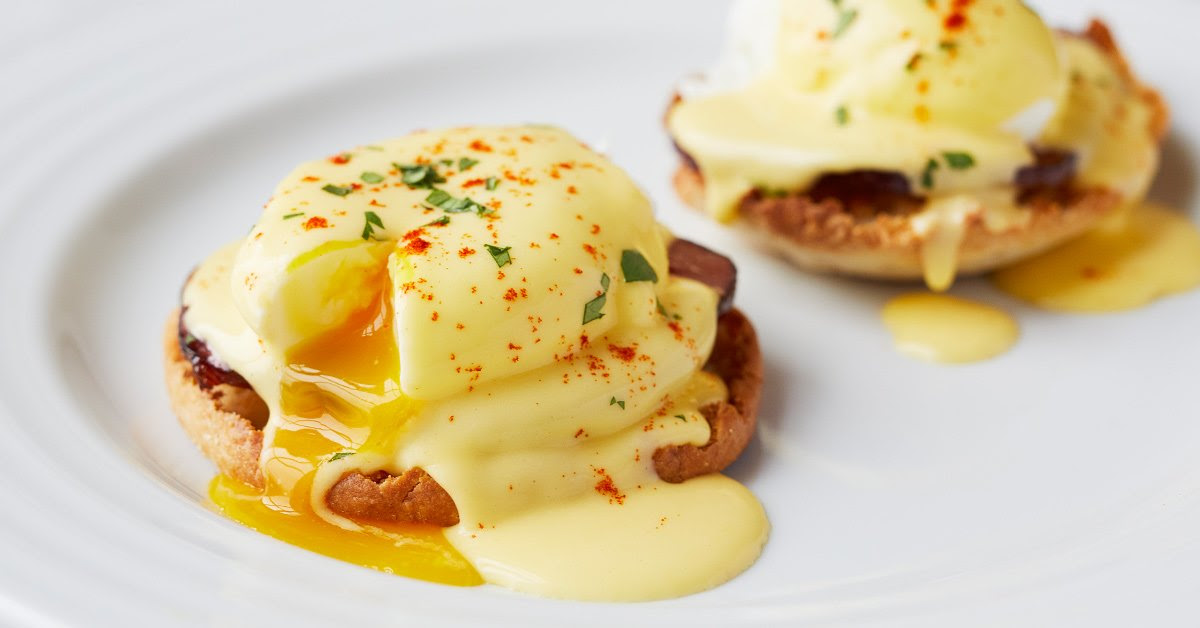 Ingredients:
2 whole English muffins
4 slices Canadian bacon
4 whole Eggs (plus 3 egg yolks)
2 sticks butter
1 whole lemon, juiced
Cayenne pepper to taste
1 tablespoons white vinegar
First, bring a sauté pan with 2 inches of water and vinegar to a boil. While the water's boiling, place a few English muffin halves and an equal number of Canadian bacon slices on a cookie sheet. Lightly butter the English muffins and place them under the broiler for just a few minutes, or until the English muffins are very lightly golden. Be careful not to dry out the Canadian bacon.
With a spoon, begin stirring the softly boiling water in a large, circular motion. When the tornado's really twisting, crack in an egg. Or two. Or three. The reason for the swirling is so the egg will wrap around itself as it cooks, keeping it together. Cook for about 2 to 3 minutes.
In a small saucepan, melt 2 sticks of butter until sizzling (you can also do this in the microwave). But don't let it burn! Separate three eggs and place the yolks into a blender. Turn the blender on low to allow the yolks to combine and lighten. Add the lemon juice and vinegar. Blend until colors lightens again. Then begin pouring the very hot butter in a thin stream into the blender. The blender should remain on the whole time, and you should be careful to pour in the butter very slowly. Keep pouring butter until it's all gone. If you are going to add Cayenne pepper this is the point at which you would do that. If you used unsalted butter add a good pinch of salt.
Place the English muffins on the plate, face up. Next, place a slice of Canadian bacon on each half. Vegetarian variation: you can omit the Canadian bacon altogether or you can wilt fresh spinach and place it on the muffins for Eggs Florentine, which is divine in its own right. Place the egg on top of the bacon and then top with a generous helping of Hollandaise sauce.
Note: To ensure that everything is hot at the time when it's ready to serve, plunge the poached eggs back into the hot water just before serving and make the Hollandaise at the very last minute.
Chef Elizabeth Weaver is a Personal Chef in West Cobb and owner of Elizabeth's Edibles. For the last 9 years, she has been preparing meals on a weekly basis for families all over the metro area. Cooking has been a passion for Chef E since she was 13. When not cooking for families, she also teaches cooking classes for all ages. As a personal chef, she can also create the perfect menu for your next gathering. If you can dream about it with food, Chef E can make it happen. For more information on her full array of services and contact information, please visit the Elizabeth's Edibles website.