The Perfect Plate with Chef E: English Muffin Bread
Posted by Adam Glass on Friday, December 18, 2020 at 11:40 AM
By Adam Glass / December 18, 2020
Comment
I never, ever, thought about making my own English Muffins until the recipe was passed along to me. Once you have, you will wonder why you have not made these all of your life. My mother-in-law, Charmane, sent this recipe to me when I married Dick. Dick and I love it. The bread is best right out of the oven (as all bread is, right?). I slice the leftover loaf and freeze the slices individually. Then we take one slice out at a time, place it in the toaster (frozen). All that remains is to top with some butter and some homemade apple butter. It makes the morning so much better.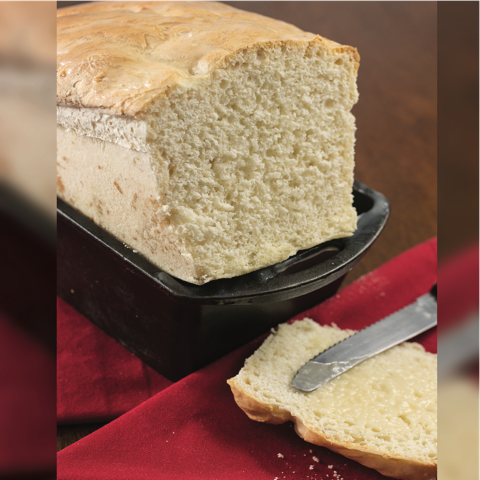 Ingredients:
5 cups all-purpose flour, divided
1 tablespoon sugar
2 teaspoons salt
1/4 teaspoon baking soda
2 packages rapid rise yeast
2 cups milk
1/2 cup water
1) Preheat oven to 400 degrees. Set aside one cup of flour. You will need this extra flour later wfor stiffening up the batter.

2) In a large bowl, combine the 4 cups of the flour, sugar, salt, soda and yeast.

3) Heat liquids together until very warm (125° to 130°). Add the warm liquids to the dry ingredients. Combine throughly. The dough will not form a ball.

4) Stir in reserved flour as needed to make a stiff batter.

5) Grease and sprinkle cornmeal or semolina in 2 loaf pans. Spoon batter into pans. Allow to rise in a warm place for 30 minutes.
6) Bake for 25 minutes. Remove from pans to cool immediately.

7) Once cooled you can slice into 1" pieces. Place them between waxed paper or parchment paper, place in a freezer bag. Freeze these and take a slice out at a time to toast in your toaster oven.
Chef Elizabeth Weaver is a Personal Chef in West Cobb and owner of Elizabeth's Edibles. For the last 9 years, she has been preparing meals on a weekly basis for families all over the metro area. Cooking has been a passion for Chef E since she was 13. When not cooking for families, she also teaches cooking classes for all ages. As a personal chef, she can also create the perfect menu for your next gathering. If you can dream about it with food, Chef E can make it happen. For more information on her full array of services and contact information, please visit the Elizabeth's Edibles website.